Bounding Into Comics exclusively reports on Arkhaven's very successful circumnavigation of IndieGoGo's retroactive cancellation of the successful Alt-Hero:Q campaign:
After IndieGoGo Shuts Down Alt-Hero: Q – Arkhaven Comics Raises Huge Money in Just Two Days!

IndieGoGo recently shut down Vox Day and Arkhaven Comic's ongoing Alt-Hero: Q crowdfunder without any explanation. The campaign trended #1 on the crowdfunding site when it launched. However, Vox Day ran a stealth campaign where he tells us he raised over $130,000 in two days from over 1100 backers. In fact, he told us he raised over $100,000 in just the first 24 hours.

Day referenced this stealth campaign in a blog post, writing, "As I mentioned previously, we expect to get version 2.0 of the AH:Q campaign up in about two weeks. As always, we're focused on doing it right rather than doing it fast, so rest assured that work has been proceeding on the first issue regardless of when we relaunch the campaign and how we do it. As The Legend has already declared, those involved will do it for nothing if necessary."

This stealth campaign was only the first part in Vox's strategy to successfully launch Alt-Hero: Q. Due to IndieGoGo shutting down the crowdfunding campaign, Vox and his team has begun working on their own independent crowdfunding. In fact, Vox tells us the stealth campaign "was a test run of our independent crowdfunding ability, which we plan on opening to the public later this month."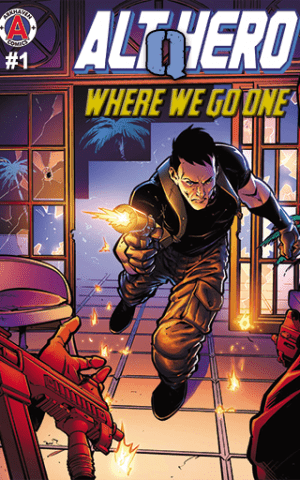 For those of you who have been emailing me and wanting to back the AH:Q campaign, we will open it up again as soon as we have the full site operative, complete with the crowdfunding element. We plan to run the AH:Q campaign for 28 more days in order to allow everyone to support AH:Q and to participate in our campaign against the SJWs trying to shut us down.
Thanks to all of the AH:Q backers whose decisiveness and discipline made this possible. Your performance was astounding, even to the AH:Q team. What we are building will not be stopped; this is only the beginning of the Dark Legion's long march through the comics industry. This is only the first of several announcements that will increasingly dismay and demoralize our self-appointed enemies.
Every time they knock us down, we will come back harder, and stronger, and faster. And we will show them no mercy whatsoever.
Where we go one, we go all.