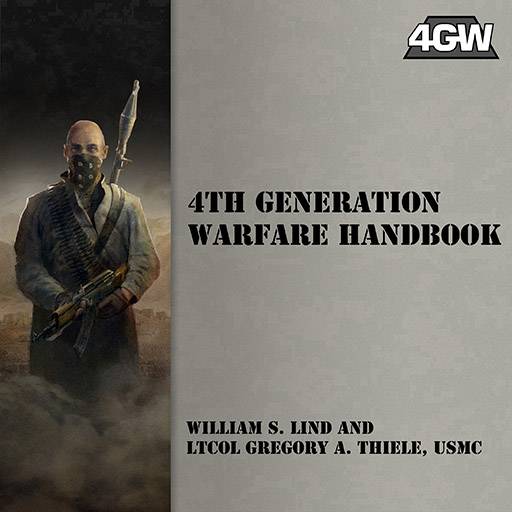 The 4th Generation Warfare Handbook audiobook+ is now available for $11.99 from Arkhaven.
Written by the author of the Maneuver Warfare Handbook and an active-duty USMC officer with experience in Iraq, 4th Generation Warfare Handbook is the doctrine for a new generation of war. Over the last 40 years, the world has gradually entered into a post-Clausewitzian state where the wars are undeclared, the battlefields can be anywhere, the uniforms are optional, and the combatants as well as the targets are often "civilian". Conventional militaries have repeatedly attempted to utilize technology to meet the new challenges posed, but even the most advanced technology has provided little more than meaningless short-term victories rendered futile in months, if not weeks.

This inability of Western governments and militaries to come to terms with the changing nature of modern warfare has led to failed interventions, failed occupations, and now even failed states everywhere from Eastern Europe to Africa, Asia, and the Middle East. And with the recent mass movement of peoples around the world, 4th Generation Warfare can be safely expected to appear in Western Europe and the United States before long.

Drawing on their decades of experience with military history and military action, the authors have distilled 4GW theory into a short, concise, easily accessible handbook that provides the soldier, the military analyst, and the civilian observer with a guide to understanding and responding to the changing realities of this challenging new form of war.
What does "audiobook+" mean? It means you get the audiobook in high-quality DRM-free MP4 format, plus the ebook in DRM-free EPUB format, plus the ebook in Kindle format. Not all of our audiobooks are audiobook+ due to the limitations imposed by Kindle Select, but over time, almost all of them will be audiobook+.
And no, we can't do anything similar with the print editions. While we may eventually be able to permit you to buy them from the Arkhaven store, they are in an entirely different production system and it's not possible to reasonably wrap them all together into a single product. We're doing what we can. Speaking of which, 4GW Handbook is not the only new audiobook we've added to the catalog, as in addition to the Wardogs Inc. trilogy, we've also added The Irrational Atheist and The Last Witchking & Other Stories. More are rapidly incoming.
We've had a fair number of requests for an Audible-like system that would permit people to pay a monthly subscription in return for a free audiobook every month, as well as some for a Kindle Unlimited system that would permit unlimited downloads. The latter is not practical since, unlike Kindle, we don't wall the garden and there would be no real incentive for a second month. But we could do an Audible-style system, the question is, what would be a fair price for it? Audible charges $14.95/month, gives you two free audiobooks initially, and an additional free one per month. My first thought is $9.99/month with one free audiobook+ initially, and an additional free one per month.
The other thing we are contemplating is crowdfunding the cost of developing a joint audio/ebook reader app for iOS and Android. Please feel free to share your thoughts.