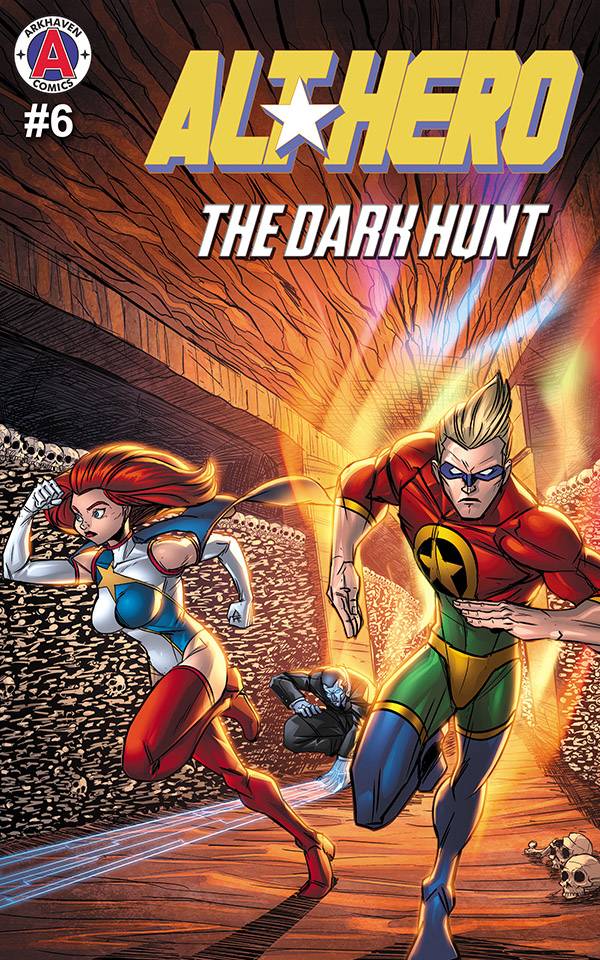 Alt★Hero #6: The Dark Hunt is now available at the Arkhaven store in CBZ and Kindle formats. It will be available on Amazon in Kindle format later today. It has already gone out to the backers; please note that the typo on page 18 has been fixed.
An angry Captain Europa is desperate to get revenge for his public humiliation at the Eiffel Tower. Unfortunately for him, Jean-Michel Durand and Christian Foucault are nowhere to be found! So when the two renegade superhumans suddenly show up without warning on the Paris Metro security cameras, the Global Justice Initiative leaps into action to try to catch them before they disappear again.

But there are few better places on Earth for outlaws to vanish than the massive graveyards located directly below the streets of the French capital.
The CBZ file contains high-quality 2048 x 1360 images. Kindle format is 1280 x 800. Alt★Hero #6: The Dark Hunt retails for $2.99.

UPDATE: on an unrelated note, A THRONE OF BONES is now available on Audible. All 31 hours 25 minutes of it. It's a pretty good deal if you're already a subscriber and only have to spend a monthly credit on it. And if you're not on Audible, you can get it directly from Arkhaven.
UPDATE: Alt★Hero #6: The Dark Hunt is now available in Kindle format on Amazon. If you've read it, I hope you'll consider reviewing it.