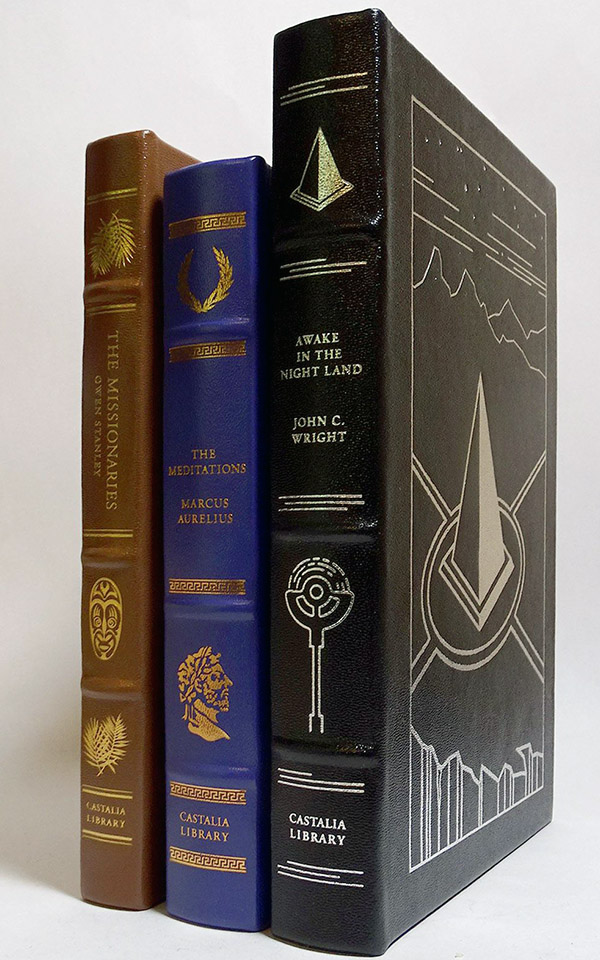 If you're interested in subscribing to the Castalia Library in time to receive Plutarch's Lives, Vol. I, today is the last day to do so. You'll need to subscribe and also make a single catchup payment to be current, and this will ensure that you're already signed up to receive Plutarch's Lives, Vol. II, which is sixth book in the Castalia Library series. And if you're a new subscriber interested in buying additional books, don't forget to email us and request your subscriber's discount code.
As you can see, Awake in the Night Land, has been bound, is now shipping, and there are about 35 left in stock for John C. Wright fans or collectors who happened to subscribe after Book 3. It's a bigger book, both in terms of pages and physical specifications, and it was very good preparation for the larger projects that are The Divine Comedy and the two 750+ page Plutarch monsters.
Book 7 will be our first Signed Edition, Summa Elvetica, and Book 8 will be Politics by Aristotle. We're considering Heidi by Johanna Spyri for Book 9; feel free to share your opinion in the comments.
We're still in the process of learning what we're doing, and we're making both mistakes and suboptimal judgement calls, but thus far the general consensus seems to be that what we've delivered is at the production level of the top 10 percent of the Franklin Library books. We won't be content until we've fully mastered the craft of creating leatherbound books – actually, we probably won't be content even then – but we are completely committed to creating the best, highest-quality books that it is possible for us to create.